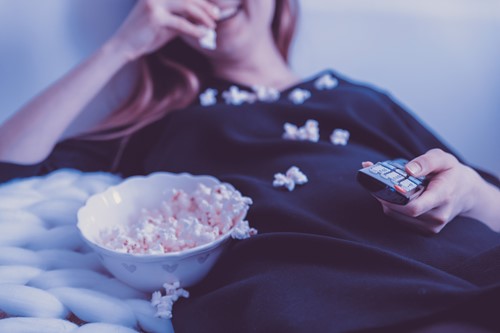 Your home theater can make you feel you're watching movies at an actual cinema when you choose the right seating and décor. Having a home theater also gives you a chance to add your own personal touch in terms of style and interior design. With a variety of options available, deciding on the ideal seats and décor can be a challenge. The following tips can help you make the best choices for your home theater.
Seating Style
The style of seating you choose for your home theater partly depends on how much space you have and how much seating you need. You can set up one or more rows of reclining seats, armchairs or chaise lounges. Reclining seats can provide more of a movie-going experience, especially if you're used to this type of seating in movie theaters. For a cozier setup, you can choose a sofa for your home theater. Keep in mind that you can get a sectional sofa that has reclining seats. Sofas allow you and your family to curl up together and watch movies, while separate seats might be easier to arrange or rearrange as needed.
Seating Material
The seating material you choose should be comfortable and easy to clean if you plan on having snacks and beverages while watching movies. You can choose leather or vinyl seats, which are the materials often used in movie theaters. These materials are easy to wipe off if food or drinks spill on them, which helps lower the risk of stains or damage. For a softer material, consider going with microfiber seats. These seats are also simple to clean and can offer more comfortable seating compared to vinyl or leather. For a touch of luxury, consider velvet seats, but keep in mind that this material is highly delicate and requires extra care and maintenance.
Seating Amenities
While you're exploring home theater seating options, consider amenities and other special features. For example, get seating that comes with built-in cup holders, so you don't have to hold your drink during the movie. Some home theater seats come with LED lights that can help reduce eyestrain, while others have arm storage compartments or motorized headrests. You can also look for seats that provide lumbar support or a footrest for enhanced comfort. You don't have to choose seats with any amenities, but they can provide more convenience or a better viewing experience overall.
Décor Items
Your home theater mainly needs a screen, sound system and seats, but you can add a few décor items for ambiance. Frame posters from a few of your favorite movies on the walls. For a dramatic effect, consider adding drapes in front of the screen that you can slide open before each movie starts. Other décor items to consider include personalized signs for your walls with the "name" of your home theater, decorative wall sconces for elegant lighting and throw pillows for each seat. You might also want to add blankets for extra coziness or a vintage concession stand to keep foods and beverages handy.
.